And The Beat Goes On.
This book is dedicated to the memory of my teacher, Mr. Alan Dawson.
ルーディメンツを知らないという人、名前だけなら知っている人、手順は知っているけど、その使い方を知らない人、ドラマーへ、音楽家へ、まずVol.1で個々のパーツを学習して下さい。そしてVol.2でパーツを組み立てて、ソロとして整理して自由に使えるようになって下さい。
ルーディメンツとは、ドラマーだけの共通語、暗号、パスワードです。大いに流行らせたいと考えます。もしかしたら、自分の演奏を写譜屋さんにコピーさせたら、自分でも驚くほど難易度の高いテクニックを使っていた……というハプニングが生まれるかも知れません。ぜひ声を出して歌いながら学習して下さい。
Alan Dawson Drum Method Vol.1
Author: Osami Mizuno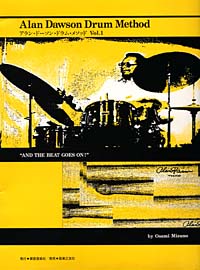 本書は、数あるルーディメンツをグループ化することで整理していく画期的なドラム教本!アランが残したメソッド、考え方、言葉を引き継ぎ、さらに昔からあるルーディメンツを基盤にして、基礎的なデータに始まり、積極的に5連、7連系、Compound Rudimentsなどを取り入れた最新の考え方までを説明した。
In this book I tried to pass on Alan's method, thoughts, and words, explain basic data and new theory including 5, 7stroke, and Compound Rudiments, which are based on older the 26 rudiments. This book offers a new approach which arranges the large number of rudiments into various categories.




Alan Dawson Drum Method Vol.2
Author: Osami Mizuno
Special Contributor: Steve Smith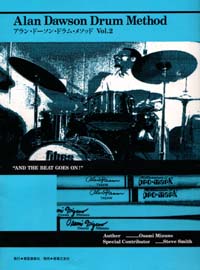 Vol.1に続く第2巻。アラン・ドーソンは、最も重要なことは両手を鍛えること、と教えている。第2巻では、この大切な「HANDS」についてアメリカン系、スイス系、そしてさらに発展の可能性のあるルーディメンツを、ソロとして整理して徹底的に説明する。また巻末には、今でもミュージシャンから高い評価を受けているロック界の名ドラマー、スティーブ・スミスの特別寄稿を掲載、デイヴ・ブルーベックの代表的作品「TAKE FIVE」のアランのベーシックなパターンなどを解説。魅力あるドラム教本に仕上げた。
Every time he threw a pair of sticks and listened to the sound of them dropping….during a drum clinic, Alan demonstrated by firmly stating, "This is the sound of a flam." He would go ahead and demonstrate and show how one should practice them. According to Alan, people, who do not think that they know rudiments, actually know and use it subconsciously. On the other hand, people, who think that they are always playing with rudiment and are tired of doing the same drum licks over and over again, should learn and study variations.
I want to share the valuable advice, trade secrets, and vast amount of information that Alan passed on to me in the twenty years that I knew him.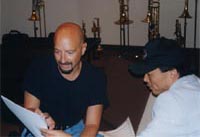 With Steve Smith (Aug.15,1997)
発売:(株)音楽之友社
〒162-8716 新宿区神楽坂6-30 TEL:03-3235-2111(代) FAX:03-3235-2148
Dear.Sir,

Thanks for asking me the Alan Dawson Drum Method Vol.1 & 2.
There is a distributor in the U.S.
Please get in touch with ,..... I listed below.

Name :  THEODORE PRESSER COMPANY
Address:  588 North Gulph Road
King of Prussia, PA 19406
U.S.A.
TEL : +1(610)592-1222
FAX : +1(610)592-1229
Web : www.presser.com

If not some reason, dose not work,
You may get in touch with the Japanese publisher Ongakunotomo.co.
Ms.Mituko Sato may help you.

ただ今、全国の楽器店、書店等にて好評発売中。
又お急ぎの方は、下記の連絡先まで御連絡ください。
Alan Dawson Drum Method, by Osami Mizuno (with help from special contributor Steve Smith),
published by TOA International.Right now,Available only in Japan.
You may get in touch with the publisher or the shops listed below.
---
---
ノナカ・パーカッションギャラリー
〒158-0082 東京都世田谷区等々力2-3-3 TEL:03-3705-8221 FAX:03-3705-8247
E-mail : nonakapg@d7.dion.ne.jp

Percussion Gallery Tokyo Japan
Address : 2-3-3, Todoroki Setagaya-ku, Tokyo, Japan, 158-0082
TEL : 81-3-3705-8221 FAX : 81-3-3705-8247
E-mail : nonakapg@d7.dion.ne.jp
---
ドラムショップ ACT
〒 543-0072 大阪府大阪市天王寺区生玉前町2-18
TEL : 06-6771-5231 FAX : 06-6771-5355 URL : http://www.drums.co.jp